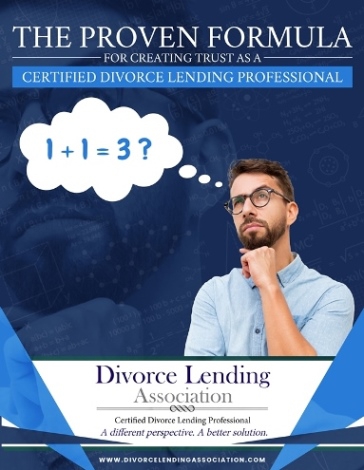 Any successful business owner will tell you that trust is the foundation upon which everything else is built. In today's deeply skeptical society, however, it's not easy for mortgage lending professionals to build trust with the homeowners they serve.
The general public tends to view the mortgage lending process as a confusing journey full of red tape—and homeowners finalizing the end of their marriage are under a great deal of emotional stress. To make connections and distinguish yourself from the competition, you'll need a concrete way to demonstrate how you can help your clients move forward with confidence.
To help you build stronger relationships with divorcing homeowners and the other members of the professional divorce team, we're offering a free whitepaper, The Proven Formula for Creating Trust as a Certified Divorce Lending Professional. In this informative guide, Divorce Lending Association President and Founder Jody Bruns explains:
Why divorce mortgage planning goes beyond simply filling out paperwork in accordance with mortgage lending guidelines

The four levels of trust—and how they are impacted by both the depth of your business relationship and the breadth of your business issues

How earning your

CDLP®

credential can help you become both a trusted advisor and a referable partner
Request This Valuable Guide Today
If you'd like to learn more about taking your mortgage lending practice to the next level, simply complete the request form below to receive your complimentary whitepaper. If you have additional questions about the role of a CDLP® in the divorce mortgage planning process, call our toll-free number at (888) 362-CDLP (2357).